Meet Dr. Shawn Rodgers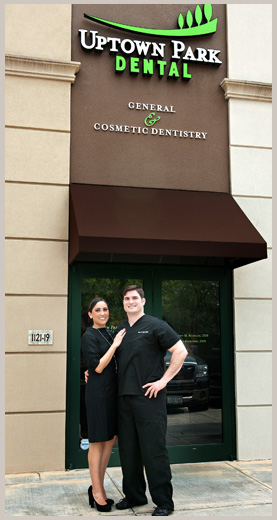 Uptown Park Dental truly is a family practice. Dr. Shawn M. Rodgers and his wife Dominique who is the Business Manager, both grew up in Katy, TX and graduated from Katy High School. They both attended Texas A&M University and earned their degrees in microbiology in 2004. They went on to dental school and graduate school, UTDB and TWU both here in Houston, to earn their respective degrees so they could run a dental practice together. They were thrilled when the opportunity arose to purchase Uptown Park Dental from Dr. James Moore in May 2012, and were even more pleased when the rebranding and renovations were completed in January 2013. Shawn and Dominique redesigned and decorated the office themselves.
Uptown Park Dental has an amazing Team of people who are all passionate about dentistry, and most importantly, about smiling! The team loves to laugh and joke and make our patients feel at home. The practice offers the highest quality materials, the latest technology and personalized care in a truly relaxing atmosphere. A true people-person, Dr. Rodgers is always available to his patients and takes pride in getting to know them personally. He will put you at ease while he works to beautify your smile and keep it healthy. The practice is devoted to General, Family, Cosmetic, and Orthodontic care."