Sedation Dentistry
We recognize that, for most patients, going to the dentist isn't on the list of favorite things to do—and that for many, it's a major source of anxiety. At Uptown Park Dental, our relaxing environment and our caring doctors and staff help put you at ease and ensure your comfort during your dental treatment.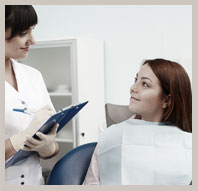 Patient comfort is our number one priority. If you suffer from acute anxiety about dental treatment, or if your care requires a major procedure, we're glad to offer conscious sedation as an anesthetic option.
Conscious sedation combines the administration of nitrous oxide with prescription sedatives to induce a deep state of relaxation. If you're interested, Drs. Rodgers and Moore will be happy to give your more information about conscious sedation.